Bibliophiles! Your Heaven On Earth is Right Here, in Portugal at This Book Hotel.
Does the smell of book pages, the sight of books around and wanting to finish one book to start another excite you? Well, if the answer is yes, then you may want to head here for your next trip! Newly opened, The Literary Man Óbidos could well be called a book hotel in Portugal.
The hotel walls leave no space empty where you will not find a book! This place houses more than 50,000 books and has a definite capacity to accommodate more. So for a literary lover, this is the romantic place to be. Blink and open to finding an ultimate collection of books in front of you. In fact. Books make their decorative asset. The collection boasts of some classics to special editions of books stacked in. While some titles are available for purchase, some are reserved for reading only.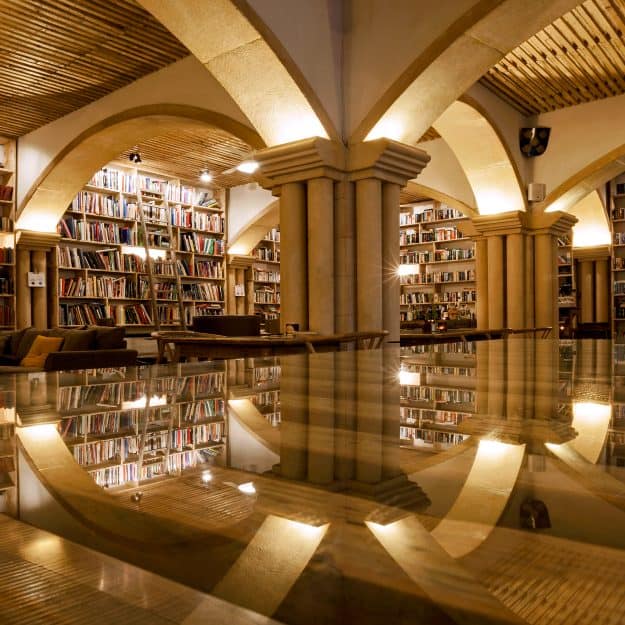 Photo credits: https://lonelyplanetwpnews.imgix.net
This book hotel in Portugal is located just about an hour and a half drive from Lisbon in the small village of Obidos. Situated right off the main street, it works for an explorer to make a base and relax with a good reading session. The guests here can bring in their own collection or borrow.
With such variety of titles peeking at you from every wall, it is going to be a difficult choice to make. And with so much of literature already being on display, there are many enthusiasts who like to contribute their collections here. While most of the books here are English, there are also a few French, Portuguese, German titles. This book hotel in Portugal is said to be the most unique and biggest one in the world!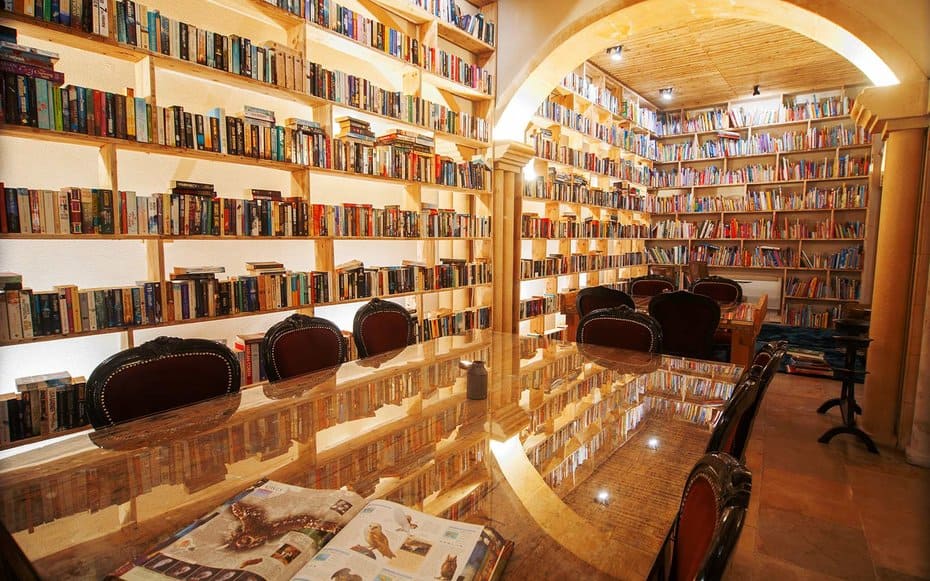 Photo credits:https://lonelyplanetwpnews.imgix.net
They have taken the theme so seriously that even in the Gin bar, the cocktail lounge and restaurant you will find a drink named after a literary legend. So sip on your favourite's choice, pick your title. For example, you could enjoy F. Scott Fitzgerald (a gin rickey), The Catcher in the Rye (an Old Fashioned), and the Moby Dick (a Salty Dog). From classics to cook books, you could enjoy your reading session here in the in-house bar or even during a massage.

Photo credits: https://cdn.welcome-to-croatia.com
For people who want a cozy space reading, it provides that comfort with their leather chairs or dark corners. If not for a stay they also have a provision of using their bookstore for meetings and presentations.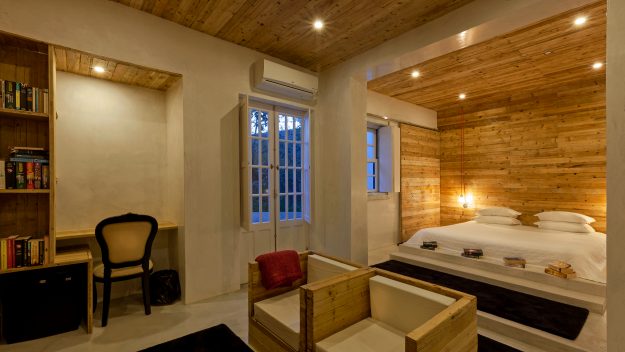 Photo credits: http://www.croatiaweek.com
Much attention is paid to detailing with handcrafted wooden shelves stacking these books. It retains the old world charm and an ambience of a library. So imagine the scent of old pages that would be present in the air here!
So if you are one of those people whose ideal spot is on the bed curled up with a book to read, this book hotel in Portugal is a place to be! They have about 30 rooms, each chic in decoration and yet maintaining the rustic appeal. The prices start at about $90 per night. If you are someone who believes that a good book is the best companion, then The Literary Man is your perfect date place!
WHILE WE TALK OF UNIQUE BOOK HOTELS, THERE IS ONE LIBRARY WHICH IS BURIED UNDER THE HEAPS OF SAND IN RAJASTHAN. CHECK OUT: