These People Went For A Skydive In Nepal Over The Himalayas and The Photos Are Insane!
The world we live in, makes us yearn for magic. Makes us want to be part of truly extraordinary experiences, makes us want to feel what it really means to be alive.
Everyone dreams of these epic experiences while dealing with their mundane lives, only a few actually go ahead and live it.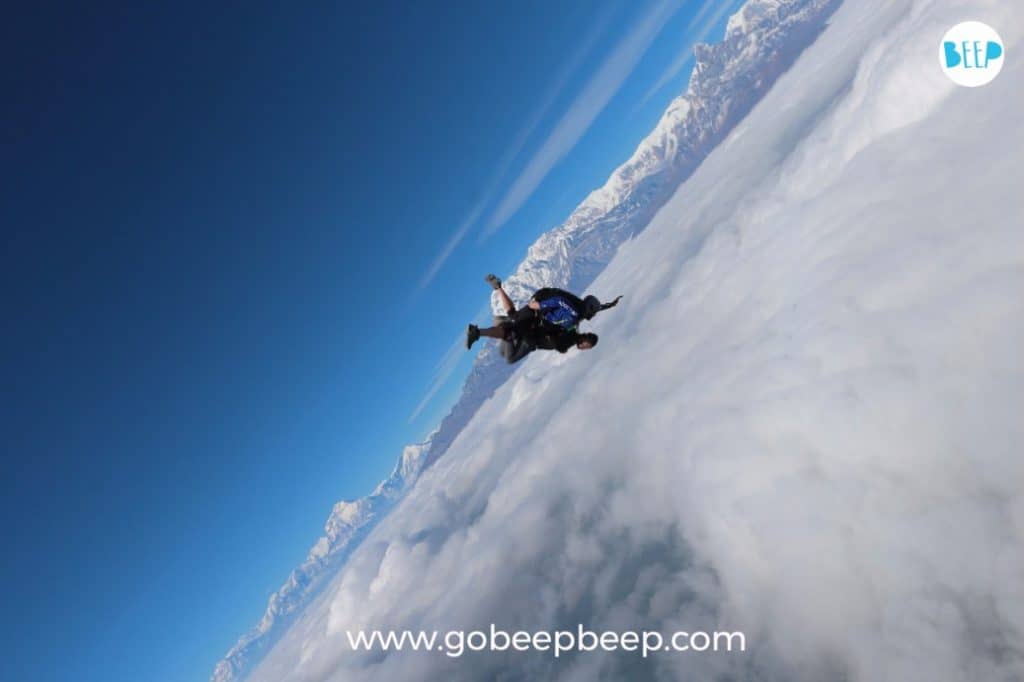 BEEP – Beautiful Experiences Extraordinary Places organizes one such unique travel experience.  A  "Once-A-Year-Only" Skydive In Nepal in November every year and man the photos are insane!!
There are no permanent schools or Centers to Skydive in Nepal in general because the weather is not conducive most of the year, but November is an exception when the weather is dry and gorgeous…..
And aren't we glad it is 🙂
Last time, the entire set-up, a temporary Helipad, and a Skydiving drop zone were built at a breathtaking panoramic valley a few hours outside of Pokhara in the Himalayas. This whole experience was created from scratch with special permissions from the Government of Nepal along with a team of highly specialized Skydiving Experts from across the world.
And the same is about to happen again from 7th -12th November (Group 1) and from 9th – 14th November (Group 2)  for the 2017 edition of this legendary Skydive in Nepal over the majestic Himalayas!!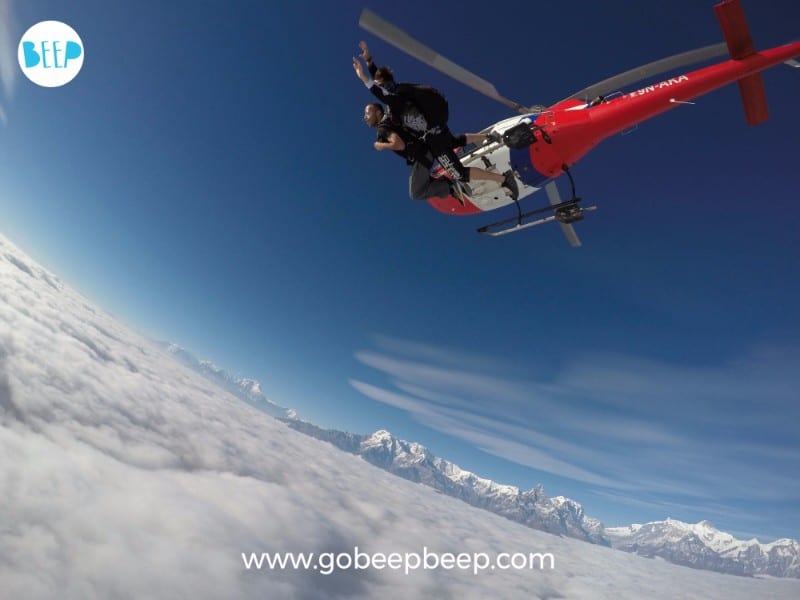 "Nothing has ever made me feel more alive than this epic skydive in Nepal over the Himalayas All my senses were awakened. Falling straight down in the best possible way and couldn't be happier. THIS IS IT." 
– Suniel Pimenta (Dubai).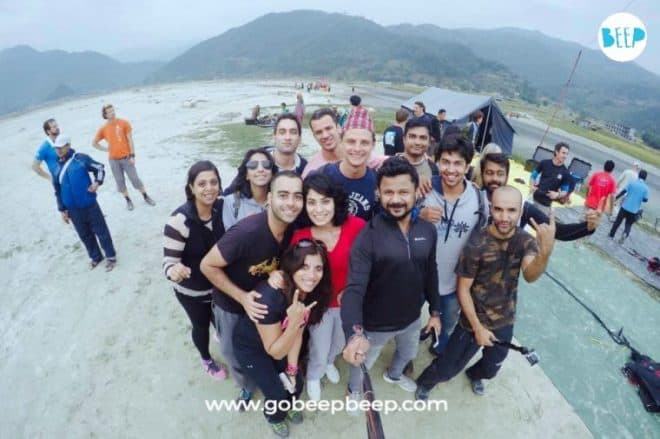 These 15 people got to be part of something that only a few in the world can say they have experienced. A Skydive in Nepal with those giant sun kissed but frozen Himalayan peaks all around you, while you jump off from 15,000 feet definitely earns you bragging rights for life!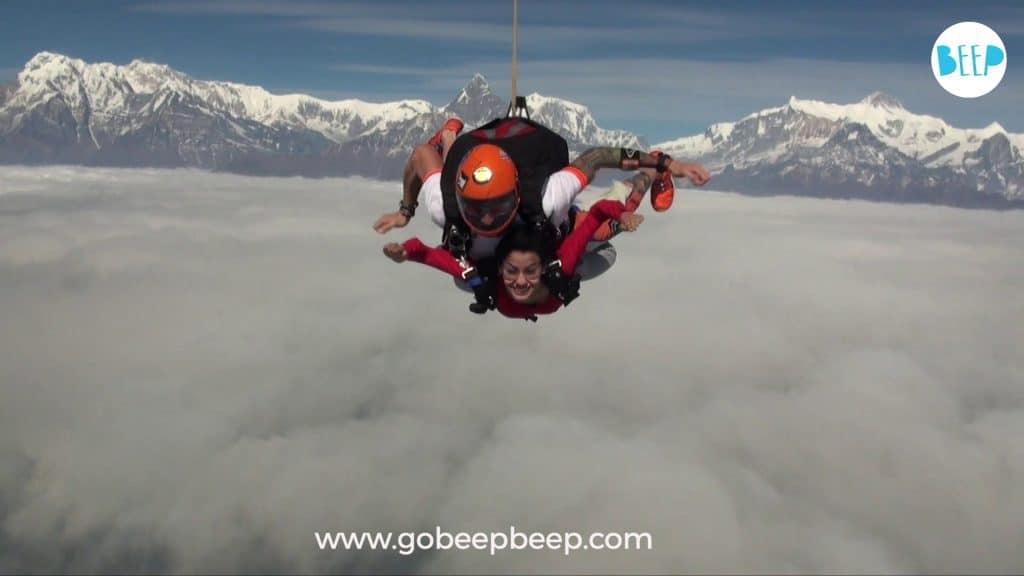 "I felt like I had a Super Power and was flying in heaven, it was all just beyond my wildest imagination….
This Skydive over the Himalayas is, Goosebumps all the way!!!"
– Manisha (Mumbai, India)
Trekking up those gigantic snow-clad Himalayan mountains is awesome but to be able to Skydive Over the Himalayas is something most wont get to do in this lifetime.
It is an extraordinary experience with no parallels.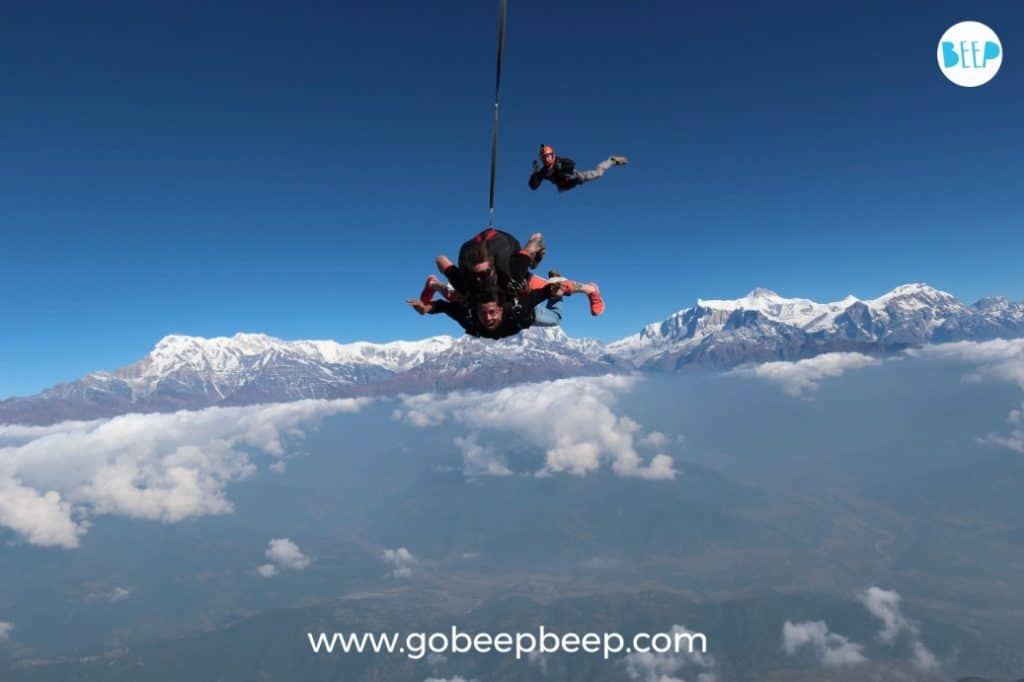 " This Skydive in Nepal organzied by BEEP is definitely one of the most beautiful experience I have ever been a part of. It's not every day that, you get to turn the world upside down. This is the ONLY WAY TO GO DOWN if you must ! :)"  
– Ankit Nain ( Mumbai, India)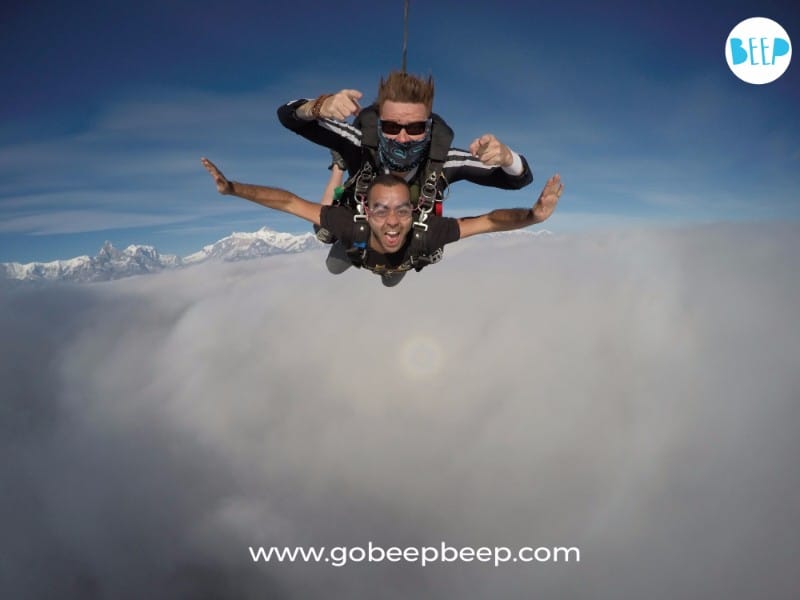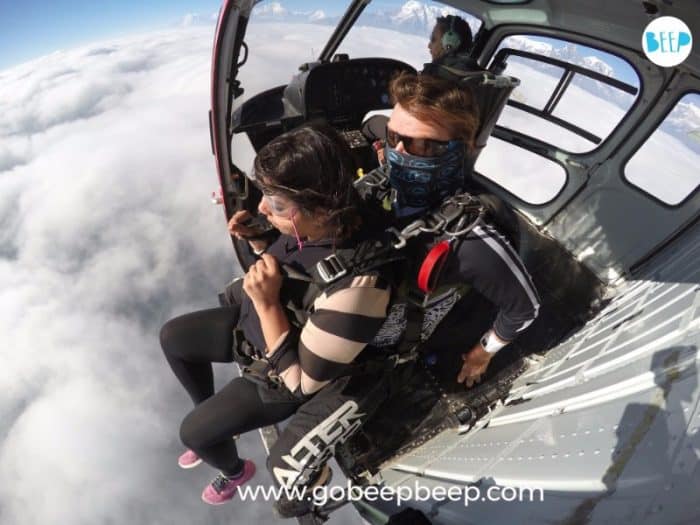 "That mad Skydive In Nepal, to the full view of the glorious Annapurna while looking down at the clouds was like nothing I had experienced before. I felt invincible dude like I think there's very little I cannot do after this jump.
There was this moment where the world went silent on me – 15000 ft in the air with the world below me – I think this Skydive Over The Himalayas changed me for life man!"
– Sangiita Kochar ( New Delhi)
It's not just the fact that you are jumping out of a damn helicopter over the snow clad Himalayas. it's the fact that this special event can happen ONCE – A – YEAR – ONLY  that makes Skydiving In Nepal extremely special.
Bucket Lists are made for this kids.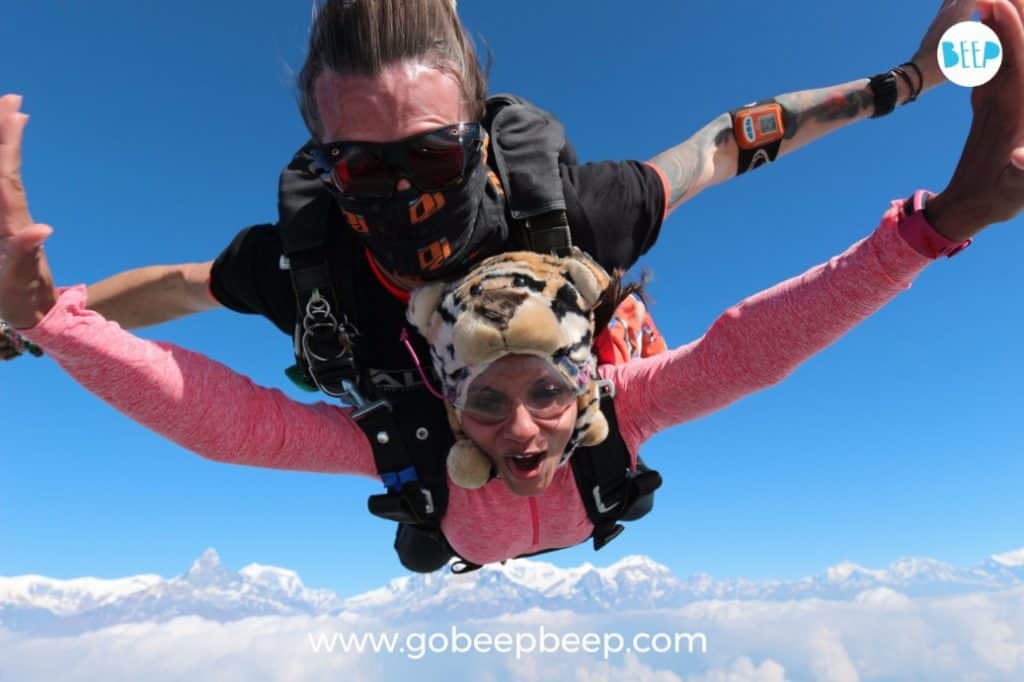 "Before every skydive I 've done, my mind has gone blank as I have surrendered to gravity and adrenaline. This Nepal Skydive, was something special though. With the snow clad mountains on the horizon as I was freefalling, made me feel like I was a bird exploring the world"
– Neha Basu (Mumbai)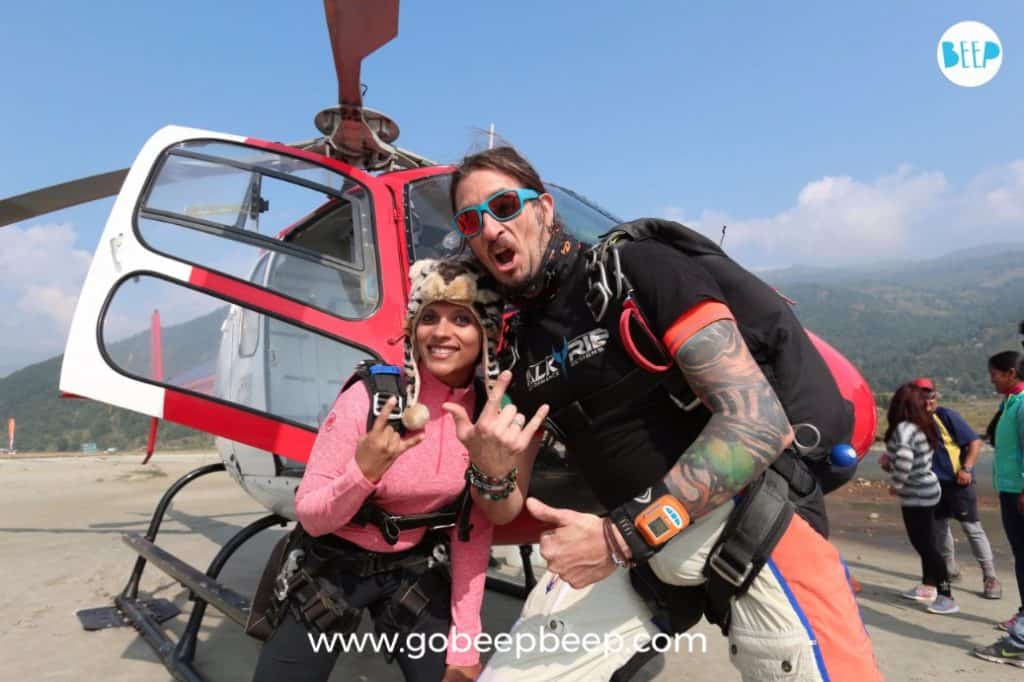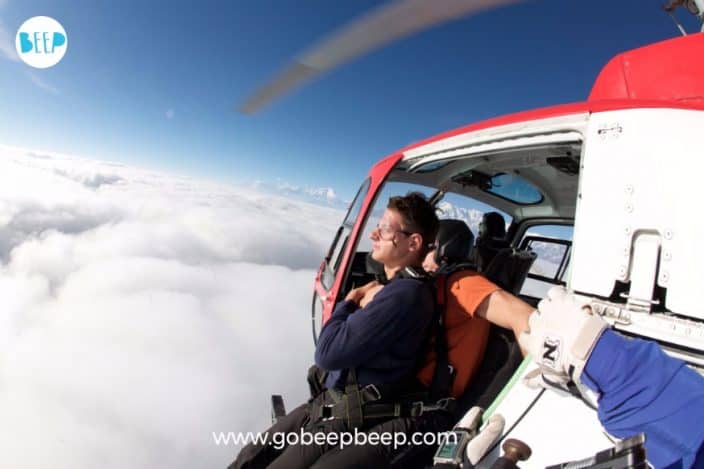 "GoBeepBeep, a crazy bunch of people and a skydive over the Himalayas…. it was absolutely incredible!
The most unique experience of my life shared with an amazing bunch of people in fact. An exhilarating Skydive in Nepal with breathtaking views over the Himalayas, we had the time of our lives"  
– Sidney (United Kingdom)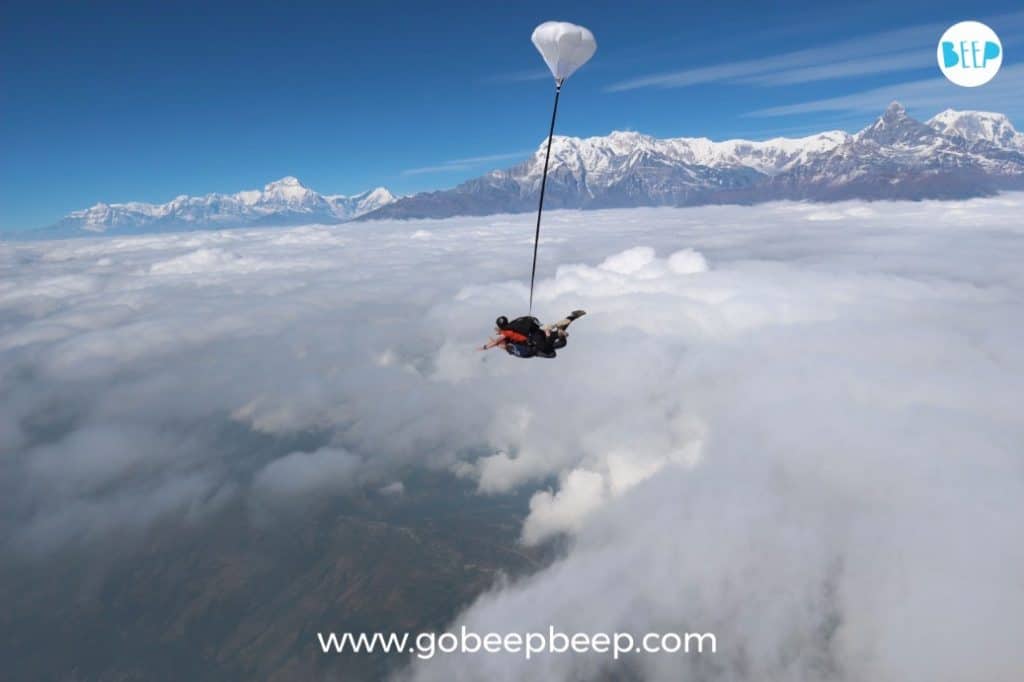 "If u want to fly like a bird and that too over the Himalayan mountains, then nothing can beat this. This special Once A year only Skydive in Nepal with Gobeepbeep is one of the best feelings ever and you have to experience it to believe it. Any idiot can fly in a plane, but it takes an extra special kind of idiot to jump out of a helicopter over the Himalayas…this is crazyyyyyyyyy!!!"
– Deepak ( Bangalore)

ᐧ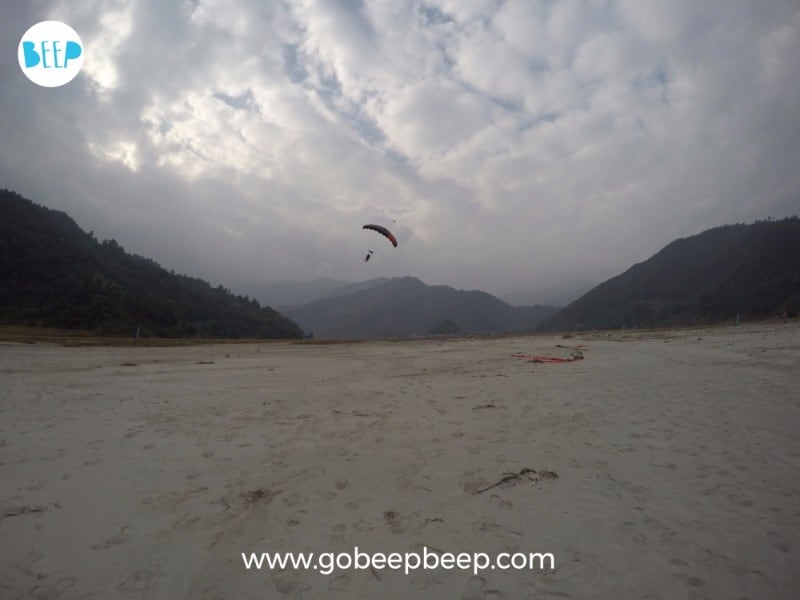 After a crazy experience like that, you probably wouldn't wanna come back down to earth. But if you must, soft sands and smiling faces, lots of hugs and kisses are waiting and after all the stories from the participants of the last event, emotions overflowed to say the least!
This Skydive In Nepal Over The Himalayas is just something else…..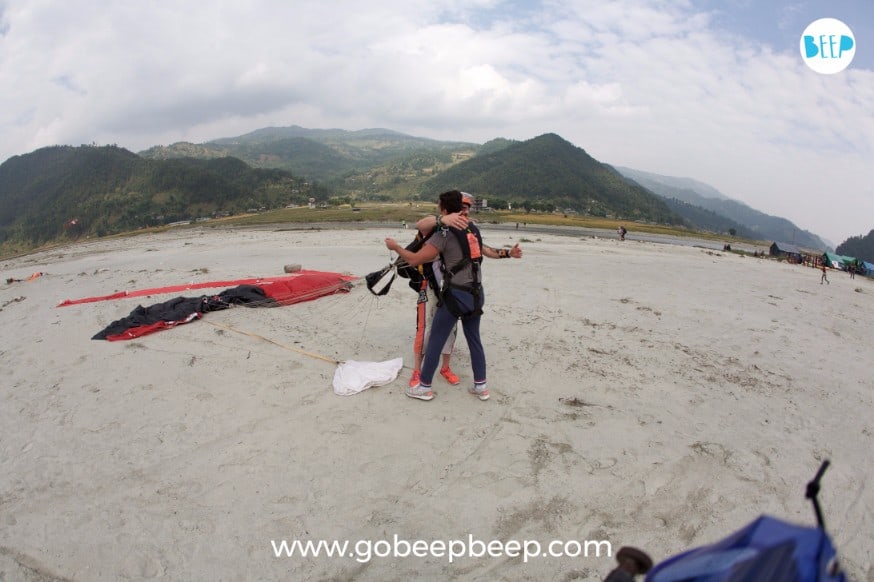 Disappointed that you missed out on this crazy ride? I've got your back!
This annual Skydive in Nepal trip is happening again in November  2017 but there are only 30 spots this time…..
So you better hurry otherwise you'll have to wait till November 2018!
Watch This Crazy Video Of Their Skydive In Nepal Trip Last Time
If you would like to know more about this Once-A-Year-Only Party In The Himalayan Skies….
Email: team@gobeepbeep.com